HSM SECURIO B24 P-6 0.78x11mm Crypto Cut Shredder (1785811)
Free £30 Shopping Voucher - Read More
Offer Expires: 31/12/2023
RRP:
£1,406.00
- You Save:
£810.00 (58%)
£596.00
+ vat
(
£715.20
inc vat)
Specifications
6 sheets per pass / 500 sheets per day
Shreds Paper
0.78x11mm Crypto Cut / DIN Security Level P-6 for information requiring extraordinary security. More Info.
240mm Entry Throat (A4)
Bin Capacity: 600 sheets - 35 litres
Dimensions (WxDxH): 395x317x605mm
Jump to: Full Product Info
Shredder Oil & Waste Sacks for the HSM SECURIO B24 P-6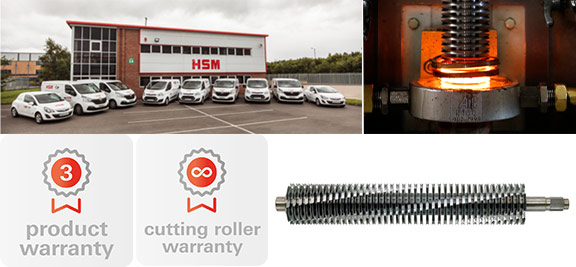 HSM SECURIO machines are covered by a class-leading on-site 3-Year machine warranty. HSM shredders are supported in the UK by HSM's own team of Service engineers, with service work control handled out of the HSM Office in Burntwood, Staffordshire.
The cutting rollers on HSM SECURIO B & P-Series shredders are machined in HSM's CNC Machining Hall from solid rods of steel which are maintained at a constant temperature to maintain cutting tolerances. Cutters undergo a 10-stage manufacturing process including machining, induction hardening at over 800°C, and precision grinding with exhaustive quality checks at every stage. The resulting cutting rollers are extremely robust and very sharp with a lifetime breakage guarantee on P2-P5 security levels.
Made in Germany - Outstanding Quality
HSM SECURIO B & P-Series shredders are designed, engineered, and manufactured in Germany for outstanding quality and durability. HSM manufactures 93% of shredder components from raw materials (steel & plastic) in their own engineering plant in South West Germany. Shredders are built in the nearby assembly plant.
Safe, Quiet, Energy Saving & Intuitive!

CD feed slot to feed CDs/DVDs or credit cards through the main cutters. Separate fabric collection bag that can be inserted to collect non paper shred residue. (P-2 & P-4 only)
Hinged Safety Element around the paper feed slot prevents accidental feeding of foreign objects and keeps fingers away from the cutter entry slot.
Quiet operation – HSM shredders are designed to be quiet (both for low dB level as well as pitch), avoiding any harsh tones.
Energy Saving Electronics – 0.1 Watt standby consumption with Blue Angel Accreditation.
Easy, intuitive operation and feedback – 2 button system.
Powerful continuous-use motors. HSM use high-quality continuous run motors in the SECURIO B-Series machines. This means that the machines can shred continuously over the working day at full capacity and the motor will not overheat, meaning there is no relatively short run time followed by extended cooling down periods. This enables even the smallest B-Series machines to be able to shred tens of thousands of pages in one day when, for example, shredding boxes of old archive material.
Product Details
The HSM SECURIO B24 P-6 is a high security 0.78x11mm Crypto Cut shredder. It is a new, stylish and power efficient high security shredder suitable for use at the desk side or in all small offices requiring to shred paper documents that are of the highest importance.
The HSM SECURIO B24 P-6 High Security comes complete with a special Energy Management Control System (EMCS) that switches the machine into Energy Save mode automatically, whilst operating all functions with one single control key. In the event of a paper jam, the HSM SECURIO B24 P-6 kicks into reverse automatically saving operator time and effort. Alternatively, you can press the "R" button if you wish to operate the reversing function manually.
Features of the HSM SECURIO B24 P-6 machine include an exceptionally quiet running motor for use in busy offices, a transparent front window allowing quick and easy viewing of container shredded waste capacity and level and a large waste container to extend the interval between emptying, saving time and money.
The HSM SECURIO B24 P-6 machine automatically switches to energy-saving mode 2 minutes after use and automatically switches on again if paper is placed in the entry throat. If not used for 4 hours the machine switches off completely eliminating all power consumption.
Warranty Terms
Unlike other manufacturers, this HSM model features an on site warranty.
In the Box
As well as the shredder, power cable and product manual, the box contains a free 50ml starter bottle of shredder oil & a pack of 5 waste sacks. Please note that the shredder oil will last approximately 1 week and so it is recommended that you order more to keep your shredder running at full capacity.
Upgrade Model
HSM SECURIO B26 P-6 -
£709.00
GDPR Compliance
The use of a P-6 shredder such as the SECURIO B24 P-6 will aid your
GDPR compliance.
DIN Security Levels
Shredders that destroy paper to Din Level P-6 are suitable for shredding confidential documentation requiring extraordinary security precautions such as research and development documents, official areas.
This shredder has been NPSA (formerly known as CPNI) evaluated to shred the following material:
Paper
Made in Germany
HSM proudly produces this shredder in factories in Germany.
Specifications
Name
SECURIO B24 P-6
Manufacturer Code
1785811
Security
Paper Shred Size 
0.78x11mm Crypto Cut
DIN

66399

Security Levels 
P-6 / F-3

Old

DIN 32757-1 Level 
Top Secret (DIN 5)
Capacities
Sheet Capacity (80gsm) 

All specifications stated are to be used as guidance only and are subject to change at any time. Shredder sheet capacities for example are provided by manufacturers and are based on 70 gram paper, and are normally only achievable in ideal situations, so heavier duty paper will shred less sheets. In many cases the capacities quoted are theoretical as conditions vary and are dependent on operator usage, age and condition of machines, how regularly cutters are oiled, type and quality of paper etc. so realistic throughputs can be as low as half that of the theoretical capacities quoted.

6 sheets
Sheet Capacity (70gsm) 

All specifications stated are to be used as guidance only and are subject to change at any time. Shredder sheet capacities for example are provided by manufacturers and are based on 70 gram paper, and are normally only achievable in ideal situations, so heavier duty paper will shred less sheets. In many cases the capacities quoted are theoretical as conditions vary and are dependent on operator usage, age and condition of machines, how regularly cutters are oiled, type and quality of paper etc. so realistic throughputs can be as low as half that of the theoretical capacities quoted.

7 sheets
Daily Capacity 
500 sheets
Specifications
Throat Width
240mm Entry Throat (A4)
Shreds Paper
Yes
Shreds Staples 

Staples refer to standard 26/6 sized staples - never shred these through an automatic paper feeder - use the manual feed slot instead

No
Shreds Paperclips 

Paperclips refer to standard sized paperclips - never shred these through an automatic paper feeder - use the manual feed slot instead

No
Shreds CDs/DVDs/Blu-Ray
No
Shreds Credit Cards
No
Shreds Floppy Disks
No
Shreds Cardboard Boxes
No
Waste Bin
Bin Capacity 

The number of shredded sheets that can collect in the waste bin before requiring emptying is provided for guidance purposes only. It may be necessary to push shreds down to reach capacities, and can be subject to many factors including the type, weight, size and age of paper being shredded.

35 litres/600 sheets
Bin Style
Pull Out Bin
Waste Sack Type
S1
Extra Media Waste Bin
N/A
Technical
Cutting Speed 

This is the optimum speed that can be achieved however please note that cutting speed can be affected by a number of factors including number of sheets shredded, how often the machine is oiled, the thickness & type of the paper etc.

3.9 metres/min
Noise Level 

Can be subject to many factors but is an indication when a machine is run without paper being shredded.

56 dB
Motor
500 watts
Continuous Run Time 

The Continuous Run Time of all shredders are to be used as guidance only and are normally only achievable in ideal situations. Run times can be dependent on operator usage, the age and condition of machines, how regularly cutters are oiled, the type and quality of paper used etc.

24 hours
Motor Cool Down Time 

Please note that the details supplied are for indication only and may change slightly due to manufacturers processes or improvements. If the precise figures is critical for your specific use case, we recommend contacting our customer support team for more detailed information.

N/A
Voltage Cycle (v/Hz) 

Please note that the details supplied are for indication only and may change slightly due to manufacturers processes or improvements. If the precise figures is critical for your specific use case, we recommend contacting our customer support team for more detailed information.

230/50
General
Dimensions (WxDxH) 

Please note that the product dimensions provided on this website refer to the main product size and may vary slightly due to manufacturing processes. The measurements represent the core dimensions of the product and do not include any extensions or attachments, such as electrical plugs, cables, or other accessories unless explicitly stated.

395x317x605mm
Weight 

Please be aware that the product weights provided on this website are approximate and are intended to give you a general idea of the item's weight. The stated weight represents the primary product without including any additional accessories, attachments, or packaging, unless explicitly mentioned.

20.5kg
Warranty
Machine Warranty 

Goods are generally covered by the standard manufacturer's warranty which is available on request. Goods must have been purchased from new by its first user, and a dated receipt, email confirmation or invoice must be provided as proof of purchase. If goods are replaced during the warranty period only the unexpired term of the original warranty is valid and transferred to the replacement product.

3 years
Cutter Warranty Cutter warranties are for parts only and
do not include labour
3 years
Downloads
Buyers Guide
Download Here
Instruction Manual
Download Here
HSM NPSA Approved Models
Download Here